Quantman Guide
Greetings all!

Quantman is a powerful tool for building strategies and back testing strategies in the algo trading arena. Quantman Algo trading platform allows you to test your hypotheses and find patterns of profitable trades that you can deploy live using a single click. Quantifying your trading strategy is just the beginning. Once you've created your strategy and proven its efficacy through back testing, we will turn it into a live strategy for you!
The platform is built on advanced analytics and enables traders to create their own strategy in tough markets by back testing their ideas with past 6+ years data for Nifty, Bank Nifty, Equity and other instruments.

Quantman integrated 27 brokers right now. about integrated brokers,
- please login https://www.quantman.in/
- Click Dropdown button in "Login with your broker" section


When we take a survey on the algo platform providers in India, we clearly understand that it is difficult for the retail trader to create strategies on their own since the platforms are not that user friendly and intended to experienced traders.

Quantman algo platform developed in the vision of making each and every retail trader to be profitable in the volatile market. Even a beginner should be able to understand the option trading techniques and create strategies on his own.
Quantman conducting free weekly webinars for their users regularly to educate about Option trading techniques. Quantman have dedicated mentor to make sure all our Quantman users are well educated and have a capability to create their trading setup on their own.
Quantman also understand that the user may need to clarify many queries regarding their deployed LIVE strategies and many algo providers are not addressing this issue. Quantman understand the importance of that and provides dedicated Support line for users to address their issues. Users can call/WhatsApp/Mail to support team to clarify their queries. Our support team waiting to clarify all your queries.
One of the important features that Quantman offers to their users is "Option Buying strategy". Quantman have more than 80+ indicator integrated where users can change indicator parameters as per their trade setup and deploy Option Buying strategies.
Apart from all mentioned support factors as above, what is important to option trader is Execution Speed that is where the efficient of algo can be estimated. Quantman ensure that user strategy orders will be placed as soon as the strategy condition matched without a delay which majorly helps to avoid slippage on their orders in broker portal.
What we discussed till now are the highlights of Quantman features. We still have many exciting features that extremely support option traders to be profitable in this volatile market.


Quantman offers below features for option traders.
- Option manual adjustment features
- Re-Entry/Re-Execute Adjustment features
- Move To Cost Adjustment feature
- Trailing Stop Loss
- Excellent Back test Mechanism
- Best order execution speed in Live Market

In Quantman, user can create strategies without much effort since the application is ultra-user-friendly nature.
Find below the steps to create simple strategy in Quantman
- Launch Quantman.in official website
- Login with integrated broker through Quantman.
- Select Create Strategy tab after Quantman login.
- Select the time period you want to back test your strategy.
- Choose the instruments as your wish for trading such as Nifty, Bank Nifty, ICICI etc.
- Define your Entry/Exit conditions by using Quantman built in indicators and custom signals.
- Choose your transactions based on your trading condition such as Straddle, Strangle etc.
- Run Back test to check how it performed in previous year market conditions.
- Modify your strategy till it produces desired results as you wish.
- Once you are happy with back test results, simply select "Deploy Strategy in Live Market" from Quantman Dashboard, and the strategy will be deployed automatically.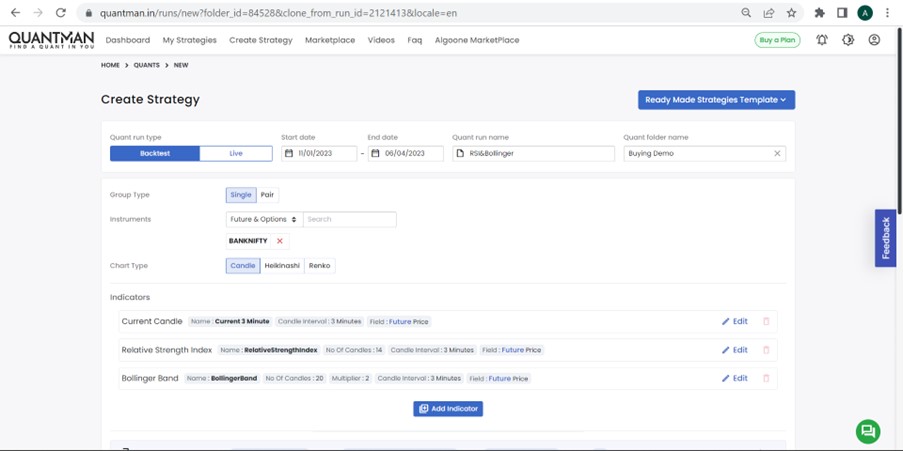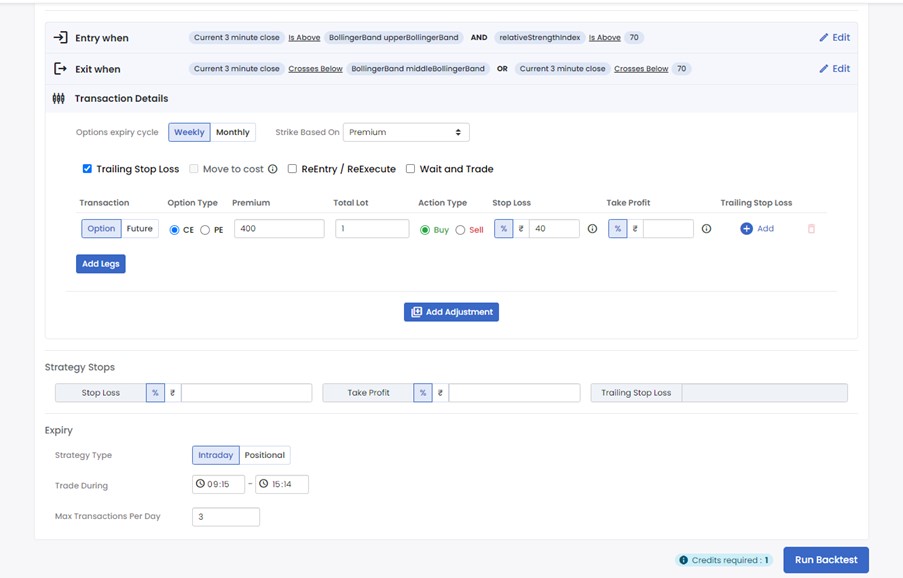 Add Indicator


Add Entry Condition


Add Exit Condition


Back test results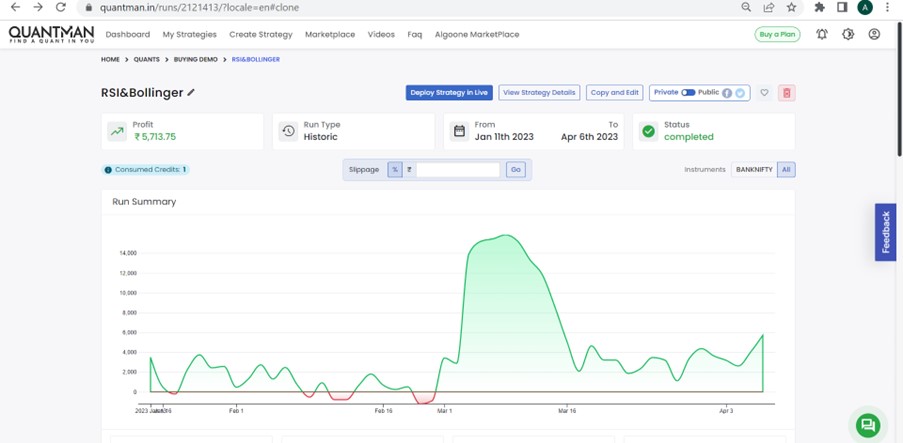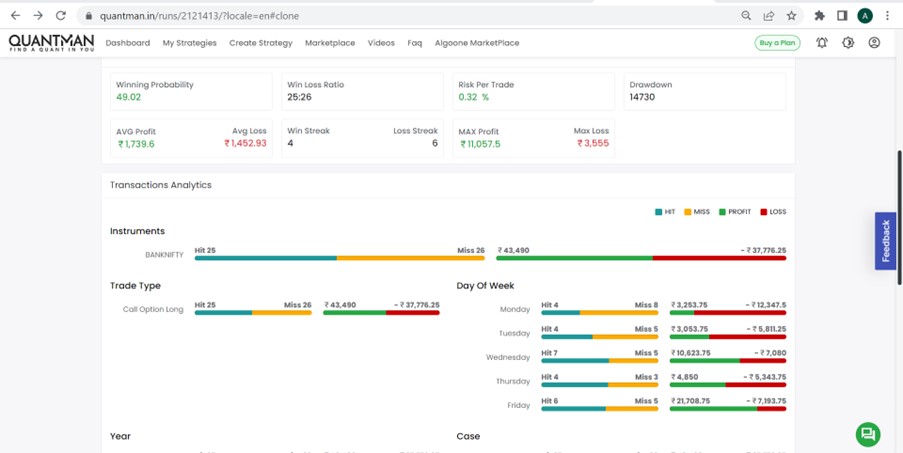 Deploy strategy in Live



After user back test the strategy, please click "Deploy strategy in Live" button on result page.




After click "Deploy strategy in Live" button, user will get below pop up



Select Auto Trading button, user will get below pop up. Please setup your trading flow in this pop up by updating below details. All details pre-filled with common setup. User can change it specifically based on their own trade setup
- Entry Order Type
- Exit Order Type
- Product Type
- Stop Limit Price Difference
- Limit Order Buffer Percentage
- Margin Benefit
- Stop Loss Order place based on entry
- Square off transaction if any entry failed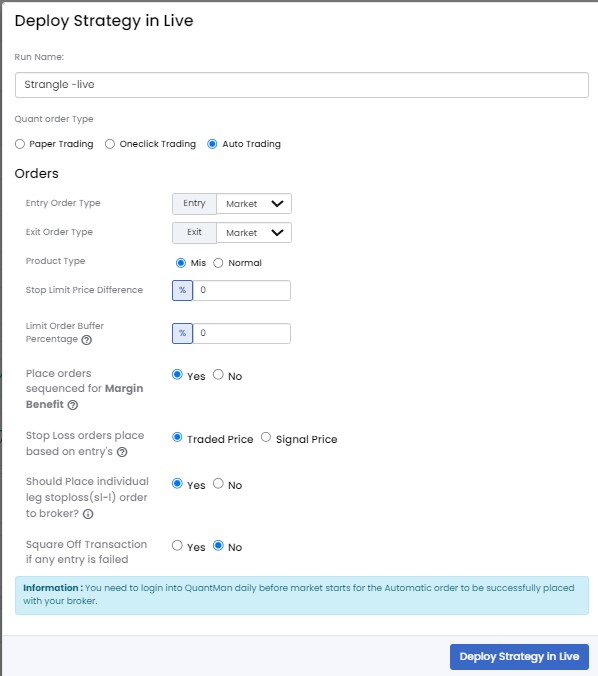 After user click "Deploy Strategy in Live", the strategy will be ready to place orders in broker portal when strategy condition satisfied.



If User want to stop LIVE strategy, click "Stop Run" button. User want to deploy strategy in to LIVE again, click "Restart" button.




Let's say, If User already deployed one LIVE strategy in Quantman with X lots and want to change Lot size in to Y, then follow below steps
Login Quantman and select "Deployed Strategies" tab in Dashboard page.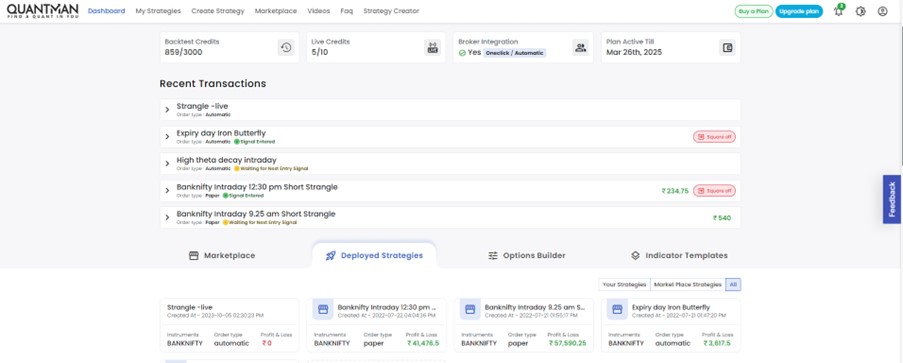 Select the strategy you want to change the Lot size.



Click "Stop Run" button



Click "Copy and Edit" button and it will be redirecting you to Create strategy page. Please change Lot size as you wish.



Click "Create live run"



Now same strategy will place orders on broker portal based on new lot size.
More than 80 indicators added in Quantman for trader convenient so that all trading setup can be done while creating strategy.
Users need to open Create Strategy page and then click "Add Indicator" to check available indicators in Quantman



User can search indicators in dropdown list




Quantman also providing facility to select readymade strategies. After login Quantman, please navigate "Option Builder" in Dashboard where users can select readymade Directional and Non-Directional strategies and create strategies by adding indicators, Enty/Exit and transaction details.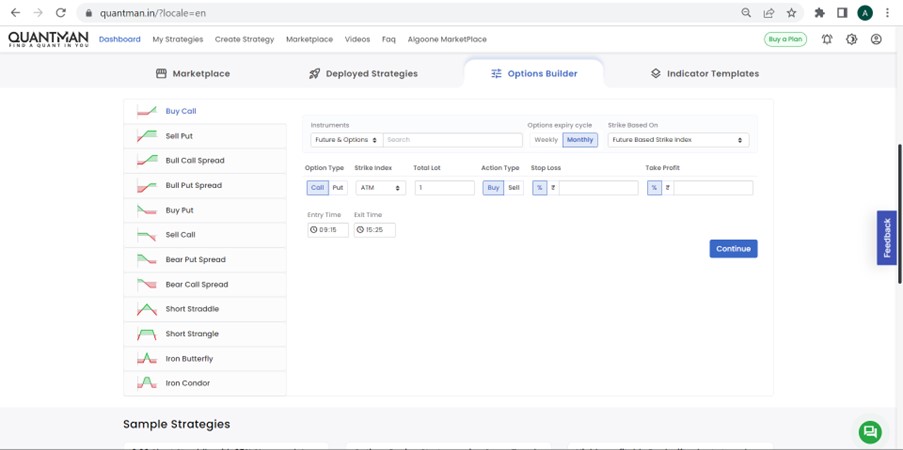 Quantman users can explore how to use diffenet indicators in "Indicator Templates" section. After login Quantman, please navigate "Indicator Templates" in Dashboard where users can select Indicator template.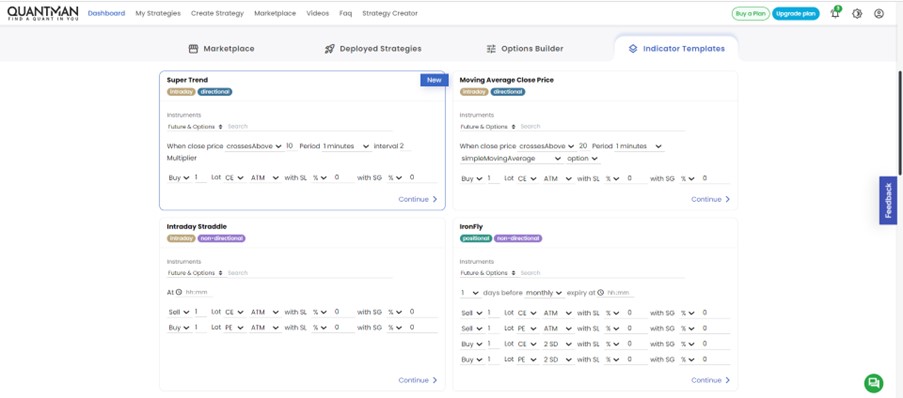 Click on Continue.
User will be navigated to sample strategy page with Indicator template.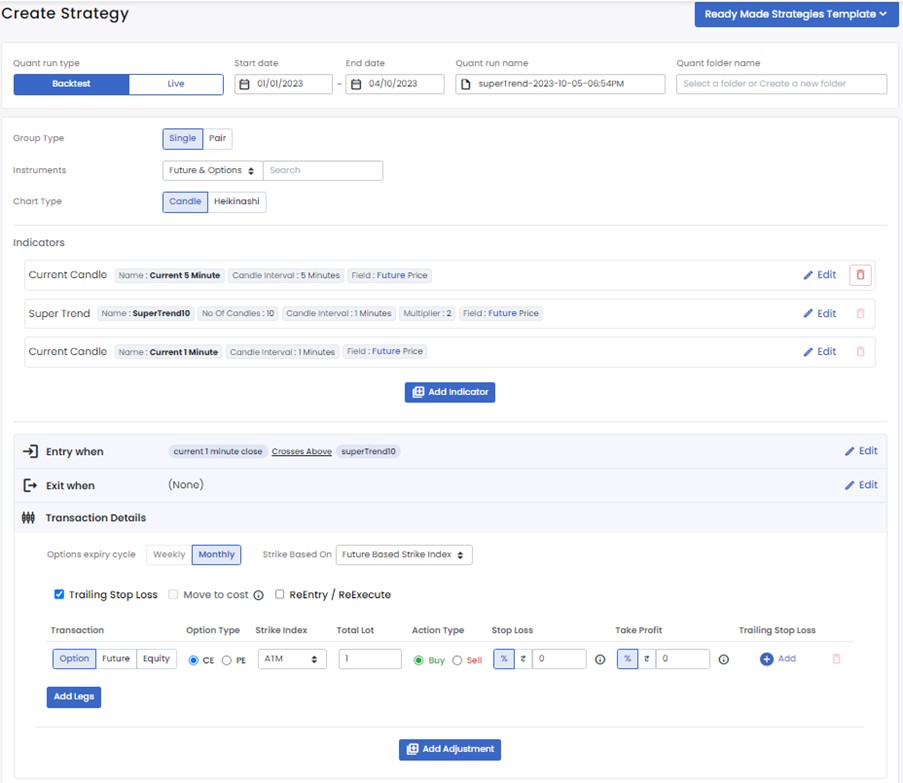 Quantman users can improve strategy creation knowledge through "Sample Strategies" page. Quantman exclusively providing "Sample Strategies" page in Dashboard for practice purpose. Users can click "Copy and Edit" button and modify the sample strategies with user's own trading setup and check the back test results.
Quantman listed many standard strategies in Sample Strategies section so that users will understand how to create complex strategies by practice